Leaflet Distribution Manchester
Delivering leaflets to 100,000 households in the North West each week.
Why choose Leaflet Distribution Manchester?
Leaflet Distribution Manchester is the biggest leaflet distribution company in the North West. We pride ourselves in providing cost effective, results driven door to door distribution campaigns. With our own teams distributing 100,000 flyers, menus and magazines every week.
Our friendly, professional and fully uniformed workforce is here to help advertise your company through a targeted leaflet distribution campaign.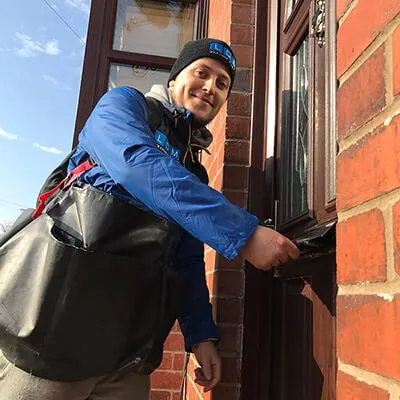 How to get started?
1
Location
Where do you want to target? Is it a certain postcode? Multiple areas? Or a 3-mile radius to your store? Not a problem. Our mapping software can help you pinpoint the best areas to choose for your leaflet distribution campaign. Looking for a UK leaflet distribution? We can help!
2
Quantity
Simply choose the quantity that you want our team to deliver.
Not sure how many flyers you'll need to cover a particular area? Then a member of our team will be happy to provide the household figures for you.
3
Date
Being flexible on your distribution dates is always helpful, but if you have a specific deadline…then we'll ensure that it is met. Each distribution usually has a two-week turnaround, but if you need your flyers delivered sooner, we'll do our best to accommodate.
4
Contact Us
Now that you know you have your location, quantity and dates in mind give us a call on 0161 923 6877 do that we can talk you through the next steps. Alternatively, use our contact form.
Our commitment to you
Here at Leaflet Distribution Manchester, we provide the most professional and cost effective distribution service for our clients. We are proud to be known as the most reputable leaflet distribution company in Manchester and a leading UK leaflet drop company. If you're looking for a reliable company to distribute your marketing materials, then you've come to the right place!
Don't just take our word for it though, take a look at what our customers have to say.
Unlike most distribution companies, our distribution teams are full-time employees, which have been fully trained and are always accompanied by a team leader. Our company takes pride in our workforce since every member of staff is interviewed and is only recruited if they show motivation, had previous experience and they are then accompanied by a team leader until they are fully trained.
You may think that this is a very simple process, but delivering to thousands of households every week takes motivation, commitment and hard work.
Ready to book in your distribution campaign?
Call us today on 0161 923 6877